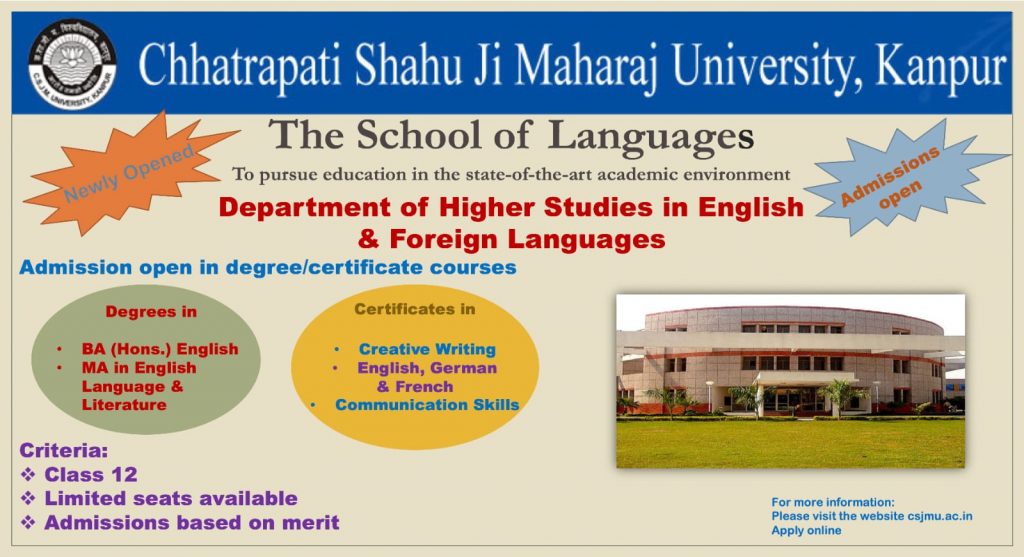 About
The School of Languages, CSJM University, will endeavor to create cutting-edge curriculum for a state-of-the-art academic framework for next generation scholars in higher studies of English and other languages. The School will bring in well-defined academic structure, high class pedagogy, choice of suitable courses and electives to bring in appreciation, elevate understanding and profitable degree and certificate programs, to usher real-world opportunities to our graduates.
The curriculum of School of Languages will include undergraduate and postgraduate education in English Literature and other languages, including short-term certificate courses in Creative Writing, Communication Skills, Spoken English and French and German, as applicable to numerous opportunities in pedagogy, journalism, and digital publishing, to name a few.
1. Department of English and Foreign Languages
The aim of the English department will be to produce well-trained students and literary scholars, who would enrich the subject while being truly insightful, effective writers, imaginative critics, and creative teachers to disseminate knowledge. The flavor of foreign languages will further bring a new dimension to academics and make the learning environment more vibrant.
Degrees offered and intake:
Undergraduate program: B.A. Hons in English (3-year program) – 30 students/year
Postgraduate program: M.A. in English (2-year program) – 30 students/year
Ph.D.
Certificates/Diploma
Certificate in Creative writing, 15 students / year
Certificate in English communication skills. – 15 students / year
One Semester Certificate course in Foreign Languages (German, French) – 15 students / year
Suggested courses for the undergraduate program
Indian Classical Literature
European Classical Literature
Indian Writing in English
British Poetry and Drama: 14th to 17th Centuries
American Literature
Popular Literature
British Poetry and Drama: 17th and 18th Centuries
British Literature: 18th Century
British Romantic Literature
British Literature: 19th Century
Women's Writing
British Literature: The Early 20th Century
Modern European Drama
Postcolonial Literatures
Suggested Elective Courses
Modern Indian Writing in English Translation
Literature of the Indian Diaspora
British Literature: Post World War II
Nineteenth Century European Realism
Literary Theory
Literary Criticism
Partition Literature
Research Methodology
Some of the ability enhancement courses as per the new education policy will include: Environmental Study, English/MIL Communication, Grammar and Composition, Soft Skills, Business Communication, Creative Writing, Technical Writing, etc. The School will also have a modern, well-equipped language laboratory to train students in hearing and pronunciation.
Foreign Languages
The School of HSS and Sciences, CSJMU, proposes a certificate courses in Foreign Languages (English, German and French) at two levels (Beginner & Intermediate). It will provide an introduction to grammar, speaking, and writing skills in these two languages. These courses will prove advantageous for students and will help them to pursue their studies abroad and as an added skill for recruitment in multinational organizations. Certificate courses in Spoken English, French and German languages will be introduced in the School of HSS and Sciences Department, and lessons will be delivered through classroom lectures and a functional language lab for a better understanding of pronunciation and knowledge of the English, German and French languages.
Certificate course in foreign languages
Initially, the School will launch certificate courses in foreign languages (German, French) for 1 year and subsequently other Indian languages will be added to the School.
What will students learn?
Pronunciation and accent of the language
Greet and introduce yourself and others
Communicate successfully in everyday situations
Talk and discuss daily activities
Make appointments and arrange meetings
Write, revise and proofread short texts
Correct pronunciation of foreign language words
Accurate use of grammar
Fluency in speaking
Mode of instruction
Interactive classroom sessions
Developing reading and listening skills
Learning through Language Lab, videos and audios
Facilities in The School of Languages
Language lab
A language lab in The School of Languages creates a learning environment by adapting to new language skills and enhancing communication capabilities of students. The laboratory is effectively utilized by students and faculty members for various self-speech enhancement and soft skill development. It proves beneficial for those students who are weak in English, students who are coming from rural backgrounds and are not exposed to the use of English language. Such labs offer sufficient ear training aiming at confidence-building among students for interactions and presentations in English. It allows several students to learn to talk and discuss at the same time. These interventions can be recorded, different exercises could be assigned to different groups, work with media files, etc.
2. Departmental Library
School of Languages consists of Departmental Library for students and Faculty members, where students and teachers can access for the course books and Literary books. It contains journals and magazines and a wide range of novels and books which will provide a conducive environment for students to read and enhance their knowledge. It is also a creative place to pen down ideas and imaginations in the form of creative writings, articles etc.
3. Conference Hall
Conference hall is well equipped with a projector and screen. It is a place to conduct meetings, discussions and debates. This hall is also used for conducting presentations and other creative activities to improve reading and writing skills.
4. Smart Classroom
Smart Classroom contains the facility for audio and video presentations, where students can create and watch short films, documentaries and listen to the debates from various universities. It is also used for online relay of webinars and talks.