About The Department
The Institute of Journalism and Mass Communication was established under the umbrella of CSJM University, Kanpur in the year 2004. The objective of the institute is to provide the best educational environment and to groom the personalities of energetic youth coming forward to have a carrier in the field of communication. With a very rich alumni, placed all over the country fulfil its aim to development responsible members of the society to contribute towards national development and to transmit the deep rooted Indian cultural values of a state to another with the excellence in technology, knowledge and wisdom. Institute not only focused on education but it also worked on the personality development of the student. The institute is having qualified and experienced faculty members from education field as well as the learned personalities of the Print, Radio and TV Journalism. The curriculum is evenly balanced in imparting technical skills in various areas of mass communication and mass media, theoretical knowledge and perspectives which determine their nature and use, and a historical and social understanding of their dynamics. It is leading institute of Mass Communication in Uttar Pradesh with the updated syllabus in the field of TV, Radio, Advertising, PR, Photography and Film Making.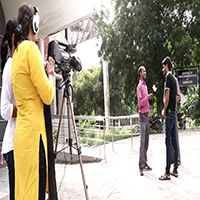 Faculty Profile
| | | |
| --- | --- | --- |
| Faculty | Contact | Photo |
| Dr. Jitendra Dabral | 9412074772 | |
| Dr. Rashmi Gautam | 9451103349 | |
| P.K.Shukla | 8318614472 | |
| Sagar Kanojia | 8052117417 | |
| Email | ijmccsjmu@gmail.com,ijmc@csjmu.ac.in | |
Courses
Course
Duration
Semester
No of Seats
Eligibility
Admission Process
MA in Journalism & Mass Communication
2 Year
4
50
Graduation in any discipline.
Entrance test
MA in Journalism & Mass Communication
(Lateral entry for student of PGDJMC)
1 Year
2
10
PG diploma in Journalism and mass communication or equivalent .
On the merit of PG diploma in Journalism and mass communication or equivalent
BA in Journalism & Mass Communication
3 Year
6
50
Passed 10+2 examination or equivalent
Entrance test
PG Diploma in Journalism And Mass Communication
Entrance Exam syllabus for MA(JMC) and BA(JMC)
For MA(JMC) graduation level and BA(JMC) intermediate level.
General Awareness
General English
हिन्दी भाषा
Logical and Analytical Reasoning with Practice Exercises
History
General Geography
Indian Polity
Indian Economy
General Science
Current Events
Culture
Social issues
General Policies of the country
Five-Years Plan
Ecology and Environment
Basic Science
Computer
Journalism
Reading Comprehension
Correction of Sentences
Articles, Proposition
Tenses
Spelling
Vocabulary
Idioms & Phases
One Word Substitutions
Voices
Synonyms & Antonyms
Transformation of sentences including Direct and Indirect speech
Simple, Complex & Compound Sentences.
संधि / समास
उपसर्ग और प्रत्यय
रस / छन्द / अलंकार
मुहावरों और लोकोक्तियाँ/ कहावते
अनेक शब्दो के लिए एक शब्द
गद्यांश
रिक्त स्थान की पूर्ति
व्याकरण
पर्यायवाची/विपरीतार्थक शब्द
Series Completion
Venn Diagrams Analysis Test
Tests of Alphabet
Analogy
Classification
Coding and Decoding
Relationship Test
Direction Test
Seating Puzzles
Ranking
Letter-Number Game Test
Substitution and Interchanging
Principles of Series
Principle of Classification
Cube Pyramid Games
Analytical Reasoning
Syllogism
Force in Arguments
Assumptions
Course of Action
Teaching Method
Lecture, Discussion, Oral Presentation, Written Presentation, Regular Assignment, Interactive, Audio Visual Presentation, Field Practical etc.
Practical activities
News Writing and Editing ,Page Making, Advertising an PR Production, Radio Program Production , TV News/Video Production, Photography and Photo Editing, Graphic Designing, Web Page Designing, Animation and VFX, Digital Media Marketing.
Facilities at the Institute
Computer Labs, Media Lab, Audio-Visual Lab, Photography Labs, Wi-Fi Internet, Broadband Internet in Labs, Industry level tools and software, Books and Newspapers.
Career opportunities:
Radio, TV, Newspapers, Advertising agency, Public relation offices, Web news portals, Film & Production houses, Reporter and sub-editor for news reporting and editing in different media; Communicator in NGOs and other organizations, Spokes persons in organizations and parties. Script writer, Video editor, Video producer, Designer, Radio jockey, Radio writer, Audio Content writer, web reporter, Web content writer, Ad copy writer, Animator, Graphic person, Photo journalist and related areas.
Our Alumni
Achievements of Institute
Students of the Institute are working in the indian film industry as a actor, writer, lyricist and cinematographer. The majority of students are placed in prestigious media organisations like Lok Sabha TV, Doordarshan, All India radio, Aaj Tak, India TV, E-TV, Sahara Samay, News-18, One India, Jansatta, NavBharat Times, Hindustan, Amar Ujala and many more.
Besides these media organisation students are also working in different universities of the nation, research organisation like ISRO and other government departments.
A student of institute got Chameli Devi Jain Award for Outstanding Woman Journalist and Laadli Award for investigative story for web journalism.
Activities
Interaction of students with various personalities of Print, Electronic, Film and various fields of communication.
Participation of students in different cultural programs and winning prizes.
Making documentary films by students.
Participation of students in a film sponsored by BBC and directed by Meera Nair.
Future Plan of action
New Courses
Bachelor in Animation & Graphic Design
Diploma In Animation and VFX
Diploma In Graphic Design
Diploma In Video Production
Diploma In Graphic Design
Diploma In Web designing
Diploma In Photography
PG Diploma In Web Journalism
PG Diploma In Public Relation and adverting
PG diploma in TV and Radio program Production
Media Research
Development of Media Research Centre
Research facilities for Ph.D. & M.Phil.
Publication of a research Journal
Establishment of Community Radio Center at the Institute
Establishment of TV studio at the Institute